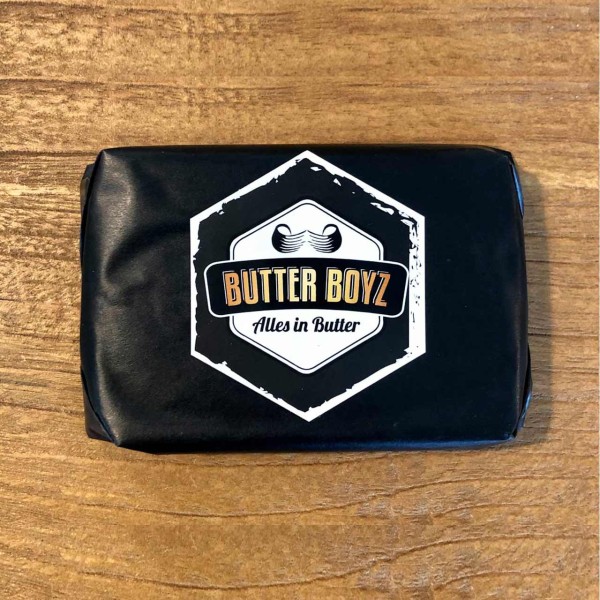 Content:
0.1 Kilogramm (€33.90 * / 1 Kilogramm)
VAT Included where applicable plus shipping costs
Delivery time approx. 5 working days
Die Butter von den BUTTER BOYZ ist rahmig, geschmacks intensiv,...
more
Product information of "Bio Butter natur, 100g"
Die Butter von den BUTTER BOYZ ist rahmig, geschmacks intensiv, unvergleichlich zart-cremig und schmeckt fein nussig.
Hier schmecken Sie die Besonderheit der handgeformten Butter.
Dieser Geschmack ist einfach unvergesslich.
Hergestellt in Deutschland; biozertifiziert DE-ÖKO-006
BUTTER Boyz
Moritz Oswald & Fabio Cestari de Mesquita
Sie haben sich 2011 in der Hauptstadt der Gastronomie Frankreichs, in Lyon, kennengelernt.
In der französischen Küche ist Butter ein sehr wichtiger Bestandteil, Butter wird hier groß geschrieben und wird von manchen Produzenten noch nach traditioneller Art und Weise hergestellt, im Butterfass.
Während Ihrer Ausbildung bei Paul Bocuse hatten sie, die Boyz, das Glück die beste französische Butter zu probieren. Der Geschmack und die Textur dieser Butter blieb Ihnen bis heute in Ihren Köpfen stecken und ist einzigartig. Nach mehreren Jahren in der Gastronomie und Hotellerie wurde Ihnen klar, dass es in Deutschland oder Österreich keine Butter gibt, die diese Erinnerungen erwecken kann und dem Geschmacksbild nur ansatzweise nahe kommt.
Deshalb haben Sue sich dazu entschlossen, es selbst in die Hand zu nehmen, und aus besten bayerischen Produkten und bester allgäuer Fassbutter, einzigartige Geschmackserlebnisse zu kreieren und Ihre Butter landesweit bekannt zu machen. Dabei helfen wir Geren denn wir sind von der Butter und der Vielfalt begeistert.
Die Butter Boyz nehmen diesen traditionellen Herstellungsprozess sehr ernst und benutzen deshalb ausschließlich Sauerrahmfassbutter, da die Butter nur auf diese Weise ihre vollen Aromen entwickeln kann. Sie wird längere Zeit auf Holz geknetet, bis sie anschließend naturbelassen, gesalzen oder und auch mit besten Zutaten kombiniert, zu Ihnen auf den Tisch kommt.
Related links to "Bio Butter natur, 100g"
Read, write and discuss reviews...
more
Customer reviews for "Bio Butter natur, 100g"
Write an review
Reviews will be activated after verification.